Use print-on-demand dropshipping to sell your own goods
This article will give you an overview of the most popular printing service providers and dropshipping providers for your t-shirt business or club.
T-shirts are not only a pile of casual clothing, but also garments that often reflect our personality, interests and identity. For this reason, t-shirts have become one of the most popular things when it comes to spreading your own message and selling online, especially for entrepreneurs and artists who want to build a business with relatively little investment.
Given the popularity of t-shirt businesses, you will undoubtedly face some competition. But if you build a brand for a specific audience and create the kind of t-shirt designs your customers want, you can find your own online success.
If you're one of the many people looking to get into the online t-shirt business, you've come to the right place. The industry is growing rapidly and is expected to see an upward trend from 2019 to 2025.
So let's take a closer look at the following 20 T-shirt printing companies.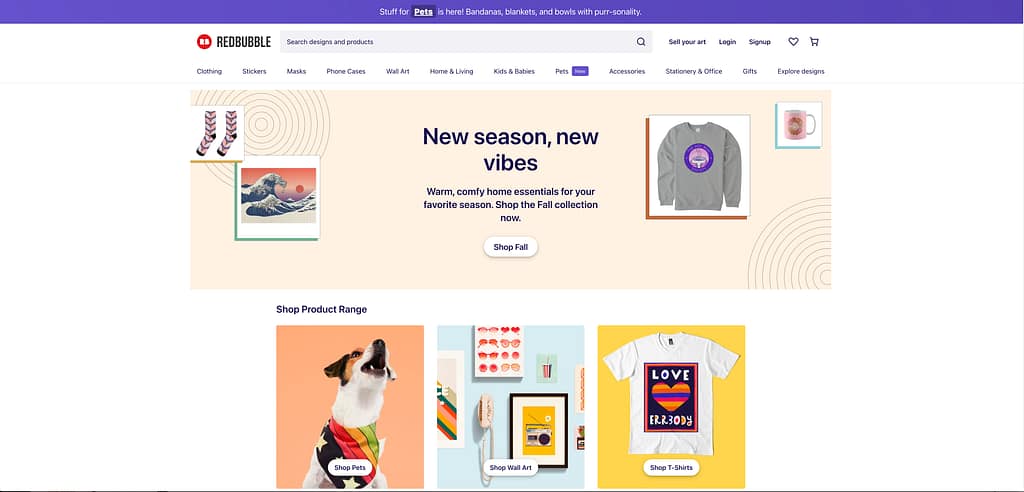 Redbubble is very popular among designers. They support designers by giving them the opportunity to be featured on their global marketplace, which is a plus. However, if you want to offer your designs as an external product in your Woocommerce store, you need to find other ways. They don't support importing your designed products into your Woocommerce store with a plugin, but there are many ways to do this, such as with Zapier, by having a plugin created with a service website or the good old manual way. They give you the option to create your favorite designs from officially licensed brands so you can offer them in the marketplace. Redbubble is always evolving, so it's not surprising that Redbubble promotes Social Responsibility. They promote fair working conditions with FLA (Fair Labor Association) code of conduct, their print media is 95% regionally produced where the customer orders and partners with renewable energy specialists.
The user interface is very simple and you can start immediately after opening your account. One good thing is the protection of your designs by adding a watermark on your image, which you can also disable by right-clicking in your account settings. You can set your own price and thus your profit, and benefit from a large selection of print media for your designs.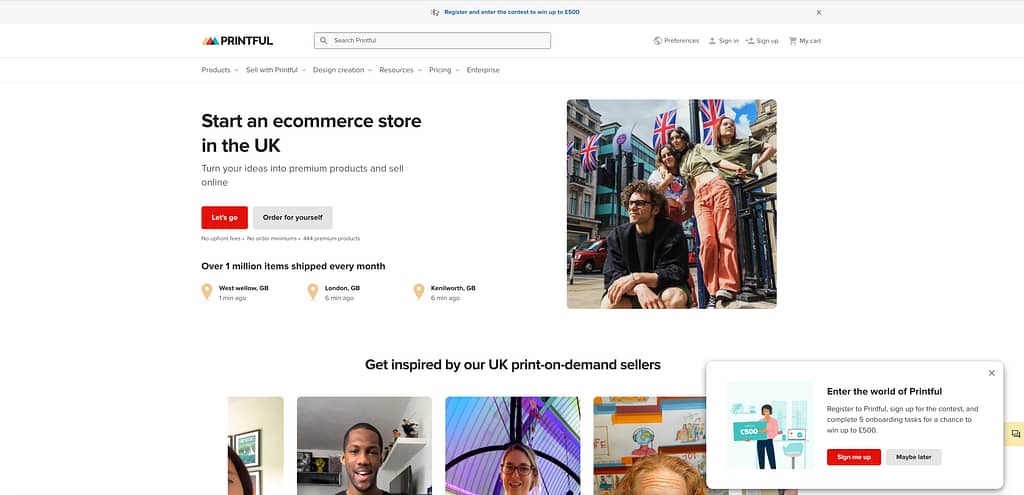 If you're serious about selling t-shirts, Printful is for you because it's made easier specifically for entrepreneurs. The company offers print-on-demand (PoD), where you can create a design and have it printed for you, and drop-shipping services, which basically means that Printful will store your products for you and ship them to your customers.
It's free to set up, there are no monthly fees, and there's no minimum purchase required. You're in control of how you make money, as you can price everything in your store and then pay for production when it's purchased. Although it is one of the top ten websites for selling t-shirts, the selection is quite limited, which can be frustrating for some buyers.
Printful can be set for your language and currency, so you or your customers can understand everything. Printful also focuses on sustainability with Responsible Printing on Demand, Eco-Friendly Products and Packaging, and Regional Manufacturing at 81% according to Printful.
Printful offers plugins to connect your webshop and automatically offer products in the store, but at least in my experience with WordPress this doesn't always work.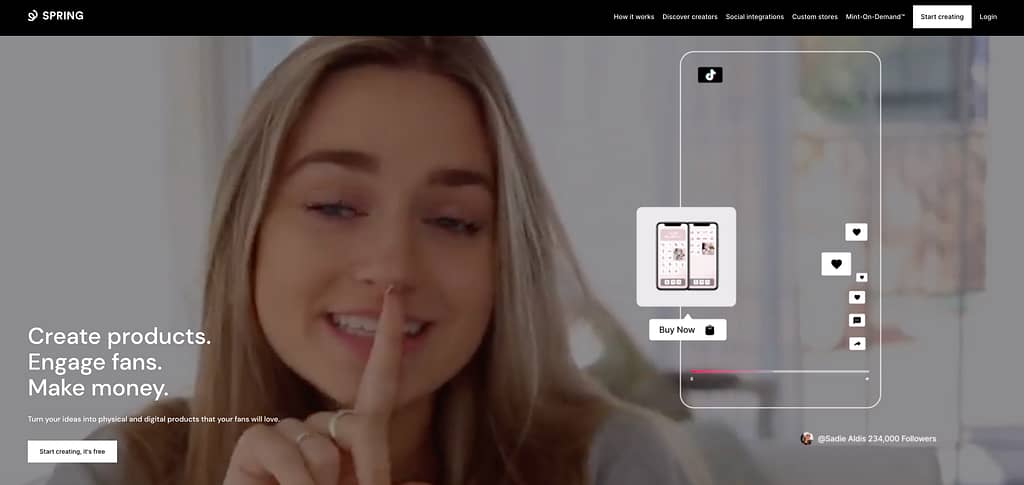 Like any other online t-shirt store, Teespring offers designers the opportunity to offer their creations on the Teespring website in your own store. Teespring, in turn, takes care of printing, shipping and customer service. You can also design and sell items like hoodies, mugs, leggings, or phone cases.
The design platform is easy to use, and you get paid for each t-shirt sold. Registration is free, and there is a training university where you can learn how to market your products. Although Teespring does most of the work, it's up to you to do the advertising. I wrote a post about my Teespring store, read more here. Teespring offers their services in some languages like English, German or Spanish. If you have a YouTube channel, it is a great option to have a merch channel.
You have the option to set up your online store on Spreadshirt or sell your products on their marketplace. You can customize your store to fit the overall tone and theme of your website.
One of the drawbacks that most artists miss about Spreadshirt is the choice of colors. There are only certain ink colors you can use for your designs, which can be a limitation for some. Spreadshirt has a reward system that starts with "Starclass 1 – Starter". The requirement is at least 10 published designs and so it goes on and on up the ladder with all sorts of different conditions like following community standards or how aggressive your marketing is or even how serious you are about your store and always keep it up. Those looking for competition are definitely fired up here. Spreadshirt offers their website in different languages and currencies. They promote their free Shopify plugin for the US/EU market.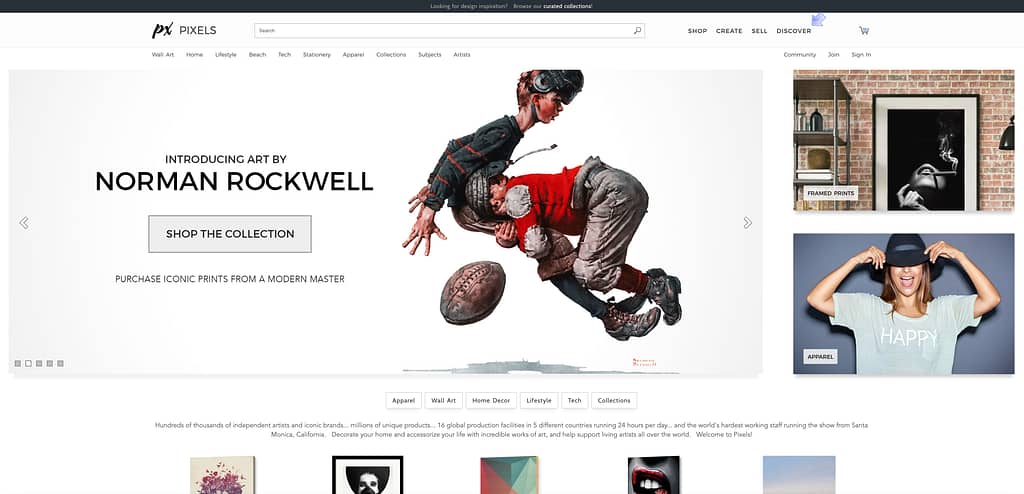 Pixels has been offering its services since 2006. They say they have one of the largest networks and offer to fulfill your printing needs around the world. Their print fulfillment centers are located around the globe in the US, Canada, UK, Europe and Australia depending on what you choose. You can choose from many products to have your design printed on. From clothing to beach towels, cell phone cases, tote bags, pillows, mugs, duvet covers, shower curtains and much more. But you can also get art prints on canvas, wood, metal, framed on acrylic and as posters. You can browse their website and you will find fantastic artwork that you can order immediately. That means you can offer your art there as well. You can sell your design instantly by creating an account. A free account and a premium account are offered. The premium account costs $30 per year and you can sell your art on your website by embedding the store in any website or creating a website under the hood of Pixel's white label flags. You can easily sell your designs through social channels like Instagram and Facebook and even through your YouTube merch. Pixels gives you the ability to sell your art through retail stores in the US and Canada. What else are you looking for?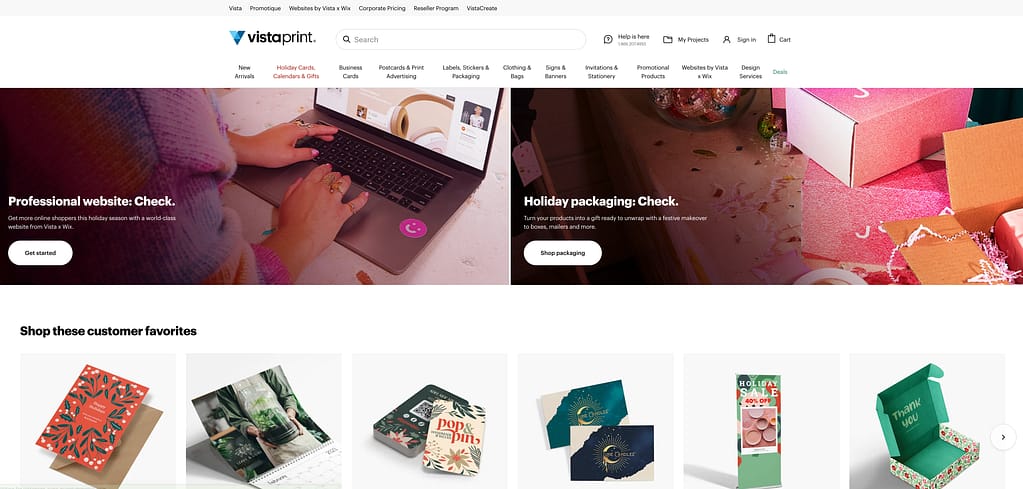 Vistaprint has been around for a few years and is one of the best online business card printers. They offer very good quality at reasonable prices. The interface is easy to use and you will be up and running with your new design in no time. They offer their website around the globe and in your language and focus mainly on marketing materials for your business. But that's not all: you can also design clothes on their website and have them printed for you.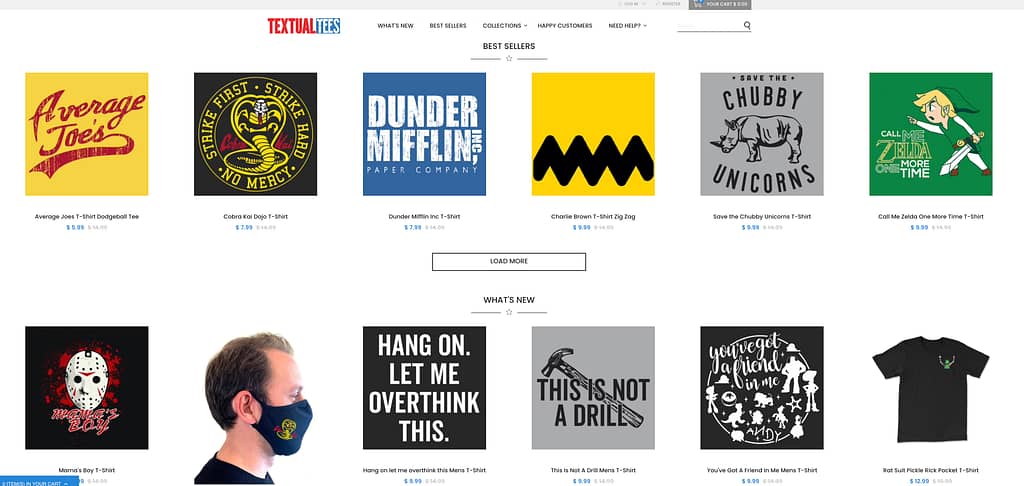 If you're into pop culture, you should sell your designs to Textual Tees. They have products in these categories: Sci-Fi, Sports, TV/Movies, Science, Zombies, Geek Nerd and others. They offer a return and exchange policy that works smoothly for both sellers and buyers.
The sad part is that they don't put much emphasis on promos or discounts. They do not accept paypal payments and do not offer free shipping.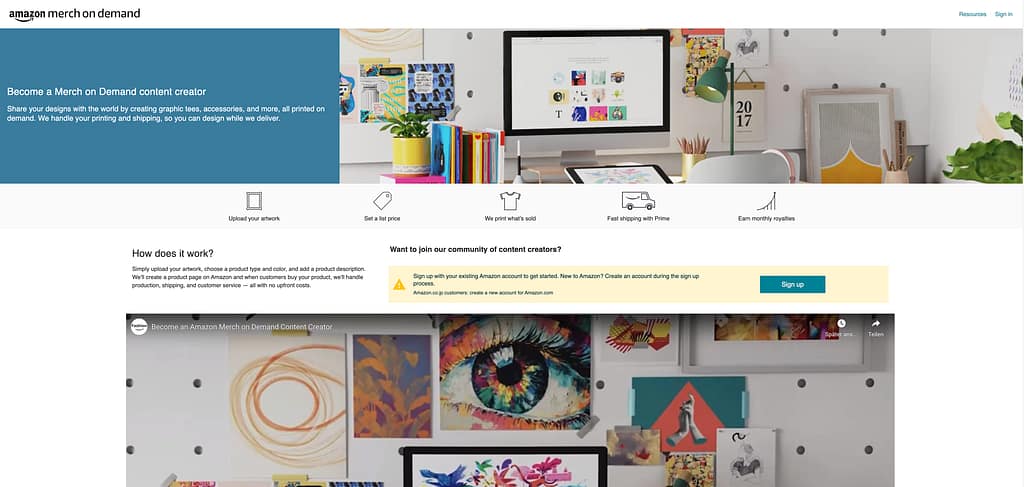 Merch by Amazon, arguably the most popular online store for t-shirts, has a very wide reach and offers designers/sellers an easy and convenient solution as they do all the dirty work. You create your design, Merch by Amazon takes care of the printing, packaging and shipping. There is no time limit on how long you can list your items, so you can expect to earn from t-shirts you listed a few months prior.
Signing up is quite easy, but you will have to wait for them to send you an invitation, and that can take a long time.
The Threadless website works differently than any other on this list. When you submit your design, it is not automatically put up for sale. You can't start selling it until the Threadless community votes on it. But once you get the go-ahead, it's easy to set up and sell your store.
Services include free hosting, font editor, MailChimp integration and website analytics.
If you read the reviews, you will find that people are generally satisfied with Sunfrog's services. And what's not to like? Sunfrog offers a wide range of high-quality media on which you can print your designs. So if you want your designs on mugs, sweatshirts or hoodies, you can make them here.
A $20 shirt will bring you a profit of 5.5% or $1.10, not bad, especially if you didn't create the design yourself (SunFrog affiliate commissions are 35% of the sale). If you are a designer and you love all your designs, the site will keep them there forever! However, if you are one of those who is very particular about your brand identity, this is not for you. You simply can't do that on your website. What I noticed when I opened the site is that WOT (World of Trust) warns about this site. This is about stolen designs that is sold on this website.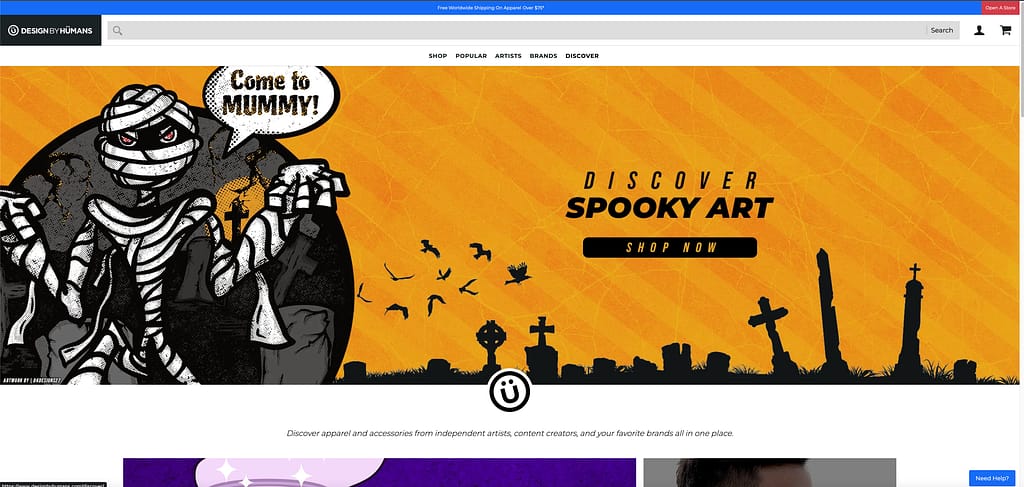 If you're addicted to games, technology, and these brands: Disney, Marvel, Pixar, and Harry Potter, this is the store for you! Design By Humans is a haven for avid fans of these famous brand names and more. They sell clothing for all ages and genders, a variety of tech accessories, and art prints.
The online t-shirt business website has a few unhappy customers, but that hasn't stopped it from being one of the most popular. The t-shirt designers love the weekly competition for the best designs. They also pride themselves on sourcing their products ethically and using environmentally friendly methods.
Teefury was founded by artists for artists and specializes in limited edition t-shirts. They've been in business for well over a decade and have featured a variety of limited edition designs in that time. The designs are only available for a limited time, but once the 24 hours are up, they are posted directly to the gallery for viewing. The designs will be returned if they receive enough votes from customers.
From hoodies to leggings to pop art prints, Teefury offers beautiful designs that focus on pop culture and iconography. For artists who want to showcase their designs to the world, this is a great place to showcase their work.
Printify has simplified the payment system by offering a fixed price rate. This makes it easier for merchants as they know exactly what they are paying for. You can also set the price for your own products. There is a wide range of products, from dog tags to pet beds, to a variety of blankets like a comforter cover or down comforter, and much more. They don't provide a marketplace where you can showcase your product to a larger community, but they do give you the ability to integrate your store into your website in your Shopify, Etsy, Ebay or Woocommerce store.
Another platform for print processing is Print Aura. If you check out the website, you'll see that there is a wide selection of apparel to choose from, and there's sure to be something for you. They don't have a marketplace, but they do offer the ability to showcase your designs on shopify, etsy, woocommerce, storenvy or open cart store. If you are a designer, you are in good hands with them because you can leave the printing process and logistics to them. Your customer will receive an insert with your branding, and you can also put your stamp on the t-shirt itself with a label. Print Aura offers high quality printing technology, so your design is in good hands.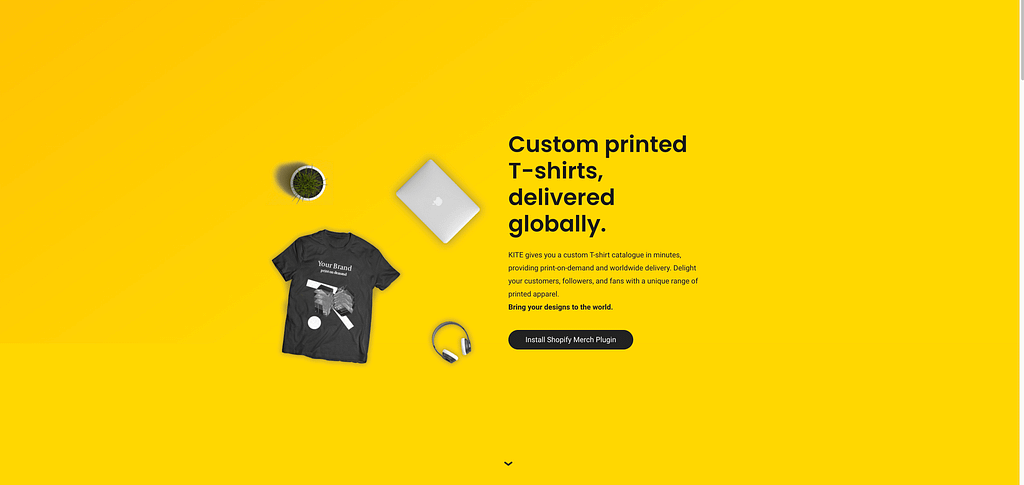 Kite offers a wide range of products, from T-shirts and hoodies with different fabrics, to cell phone cases, household goods, prints and magnets. The offer of fine art print is interesting. If you are an artist and want to sell your paintings as prints, your Photoshop art or your photographs, this is certainly a solution. You can choose from more than 20 formats to have a museum quality poster of your art printed. You can choose between canvas prints, framed art prints and mounted art prints. High quality art prints are shipped from the UK, USA, Australia and the Netherlands.
Clothing prints are shipped from the UK. Other clothing items come from the UK, USA and India.
They offer website solutions using Shopify and BigCommerce. Unfortunately, Kite.ly's Woocommerce plugin was discontinued two years ago and is no longer available.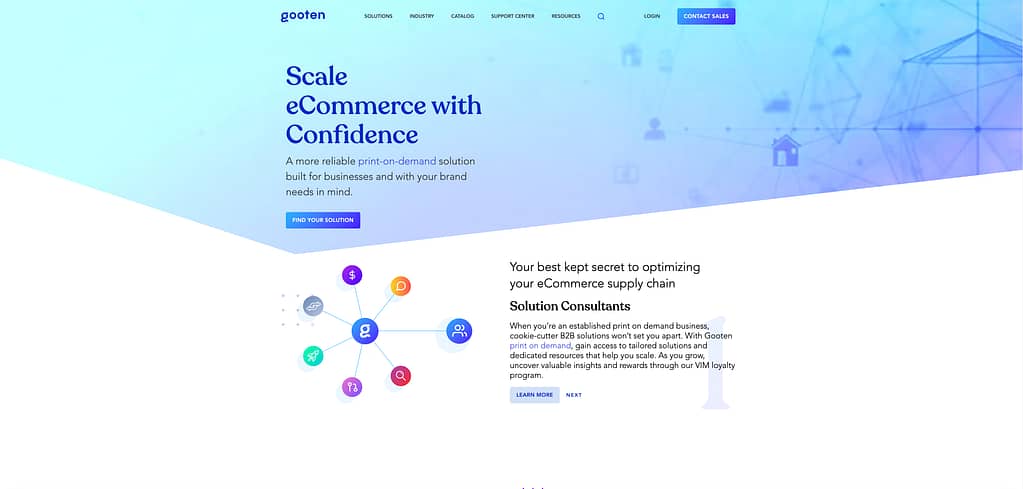 Gooten has yet another approach to being a printing fulfillment company. They offer flexibility in printing, like on demand, their range of products like travel bags, yoga mats, bath mats and pet beds, ottomans and rugs, pajamas and notebooks, things you won't find in every print store. You can add them to your Shopify store, your Woocommerce store, and your Etsy store. The company offers an API for those who are a little more tech savvy and want to make their own customizations to their website. Overall, the company has a very responsive approach to getting your designs printed.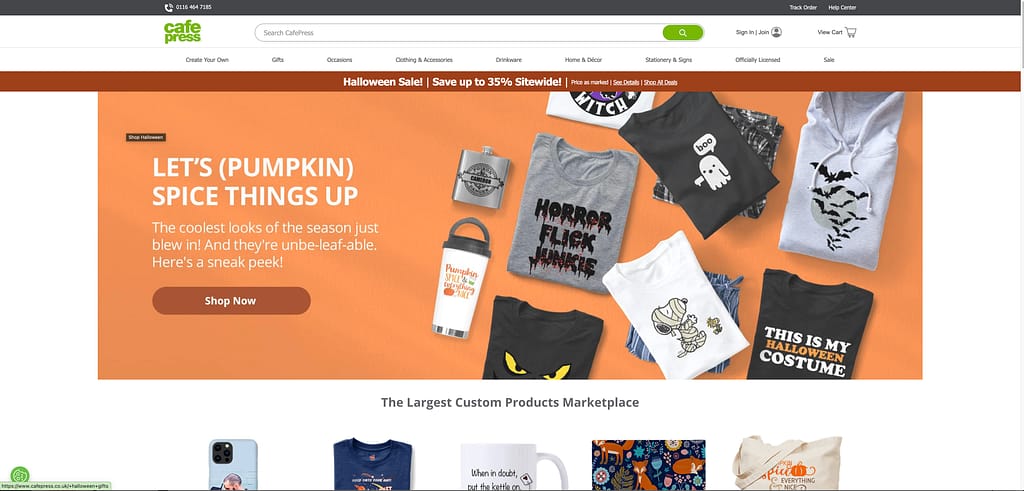 Cafepress offers you the possibility to print your designs on clothing, stationery, jewelry, flip flops and other accessories. So if you want to sell special beverage products with your imprint, such as a hip flask, beer mug or sports bottle, this is the place for you. For all dog lovers, you can have your dog shirt printed here. Like many others, CafePress also offers a return policy if you are not satisfied with the product. You earn 5% – 10% on the products listed on the marketplace and you can cash out your earnings via paypal or check. Don't worry about your content, it's yours after you upload it to the site. The company is based in the US and has international fulfillment centers in Australia, the US and Canada, as well as worldwide, in the UK and Europe.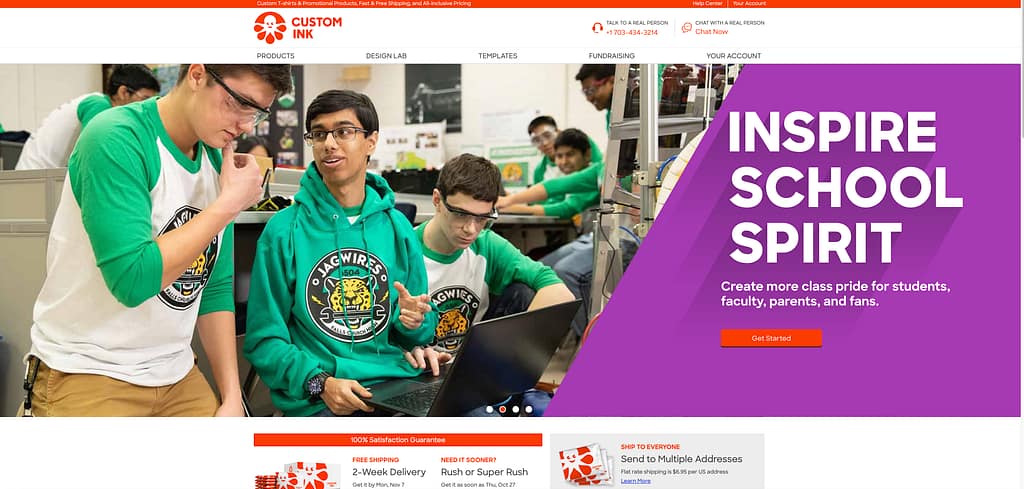 Custom Ink offers you a wide range of products of good quality. Choose from different sets of polo shirts, branded shirts like Nike, Tommy Hilfiger or North Face and more. If you are not a designer but want to sell your brand or spread your message, browse their website and you will find many t-shirt designs to choose from. They also offer a fundraising feature that allows you to start a fundraiser for your community from the website.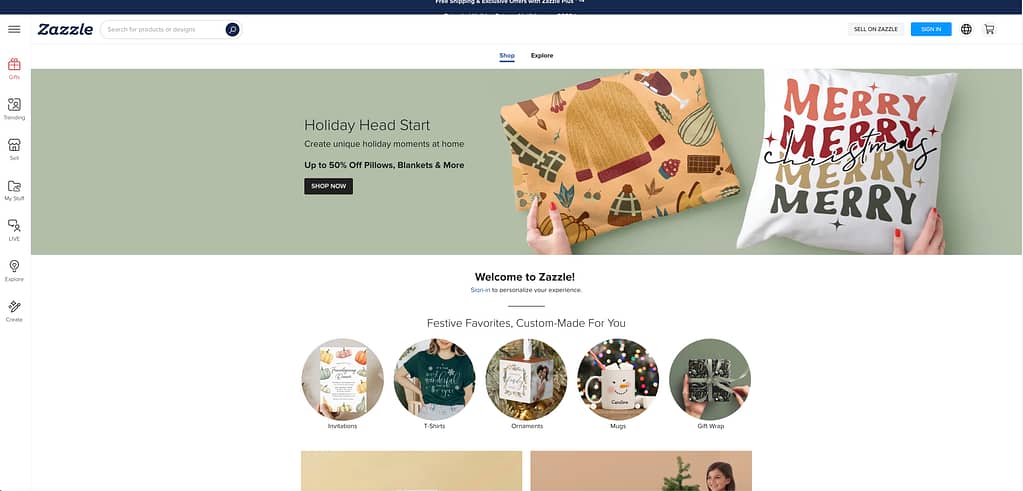 Zazzle offers a wide range of products for you to choose from. If you're not a designer yourself, you can choose a design from the Zazzle marketplace. You can customize existing designs or upload your own design. Zazzle offers a 100% satisfaction guarantee, which means you can return the item within 30 days of receiving it.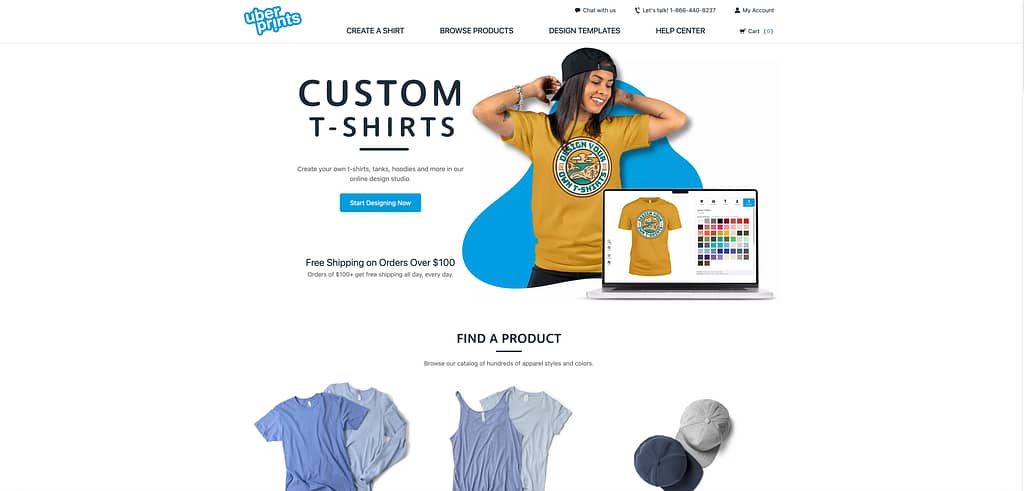 They offer a wide range of products in the field of clothing and bags. So if you are looking for a polo shirt, you can choose from not one but seven designs. For individuals and small business owners, they may be a little more expensive than others.
Summary
This overview of websites where you can get your t-shirts printed should clear up some questions for you. Take a look at the providers that most closely match your needs. Compare prices and the ease of use of the user interface. If a marketplace is important to you, choose sites like Red Bubble, Zazzle or Spreadshirt. If incorporating your designs into your website is important to you, then compare what is offered to import your products into Woocommerce or Shopify, or if you want to connect to your Etsy store or can create a YouTube merch where Teespring (Spring) lends itself.
When choosing your printing partner, you should check on the quality, sustainability, fairness and return policy and last but not least the earnings for your work.